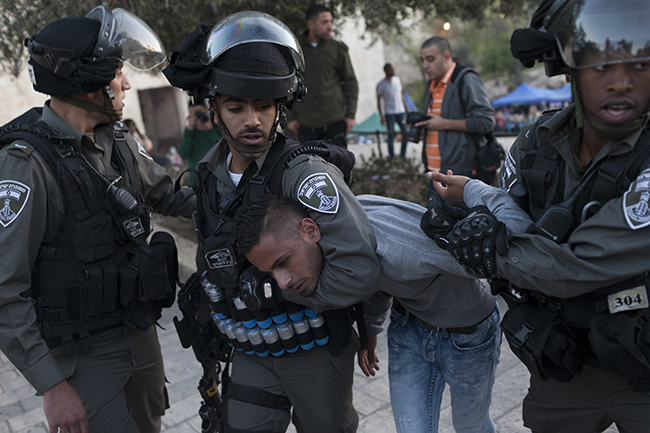 Damascus Gate, East Jerusalem – 22nd of March, 2014: Israeli border police carry out an arrest while dispersing an unauthorized sit-in called in protest against the killing of three Palestinian militants in the Jenin refugee camp earlier on the day. The gathering was dispersed several times as the less than a hundred protesters refused to obey the orders given by the police to refrain from chanting political slogans, waiving the Palestinian flag and marching on the nearby road to vent their anger and commemorate the dead militants, who opened fire on the forces who entered the camp to arrest one of them, who according to the security services was preparing to carry out an attack against Israelis.

As soon as the sit-in begun, police officers personally warned those they deemed to be in charge to not get on the road and when this did not happen, proceeded to arrest them. As the "leaders" of the protest were reluctantly dragged away, most likely to be detained for about 24 hours as it has happened countless times to each of them, the tension between the crowd and the heavily armed police grew, with both sides becoming more defiant. Eventually stun grenades where repeatedly deployed, causing short bursts of panic among the surrounding shoppers, tourists and journalist. Time after time the police moved in, arresting people they deemed worth of arrest and retreating to take them to detention, leaving the square to the protesters who regrouped and set the whole cycle in motion again in an all-too familiar pattern of events which often takes over the delicate balance in place at Damascus Gate, and in some ways throughout the land between the river and the sea.

This balance, is also held up by limits: some are routinely crossed, such as holding illegal peaceful protests and deploying riot police against them, while others are not. This time, the mostly middle-aged protesters appeared more or less resigned to the police's actions and mostly confined their reaction to arguments and sheer non-compliance. On the other hand, the police could violently disperse them in a very short time, but more or less let the whole thing happen and eventually retreated altogether when the sit-in turned into a public prayer, a rare event at this location which seemed to make a great impression on all those presents. Asked what would happen if the police attacked the prayer, a passer-by by commented that "not even the police would do something like that", and then moved on as even the crowd of local photojournalists decided it was time to call it a day. When the prayer ended, the police suddenly charged in throwing several stun grenades on the protesters, finally dispersing them and swiftly restoring its authority over Damascus Gate.