"People back in America say that Jewish life in Ukraine is finished, that there used to be a lot of Jews here, and now there aren't, after all that happened. I don't look at it this way. Ukraine was always a Jewish place, with a Jewish history and a Jewish identity, and will always be." We are in Uzhgorod, the regional capital of the west-Ukrainian region of Zakarpattia, and these are the words of Aaron, who knows a great deal about what people say in America, and about Jewish life in Ukraine: born and raised in Long Island, NY, he is now the proud owner of the Brooklyn Bakery, Uzhgorod's first kosher bakery in decades.
Zakarpattia was always somewhat of a borderland: in the twentieth century alone, it went from being part of the Austro-Hungarian Empire to Czechoslovakia and then of the Soviet Union. Many different peoples called it home: Ukrainians, Russians, Germans, Hungarians and Jews, lots of Jews, who maybe found themselves at home in such a geographically uncertain place. Over time and under the rule of benevolent nobles who allowed them to own and farm land, the Jews of Zakarpattia created flourishing communities that counted thousands of members, built magnificent synagogues and gave birth to great thinkers and teachers. It all came to an end with the Holocaust, which saw more than 100,000 Carpathian Jews deported over a few weeks in May 1944. About 4,000 Jews were still in the region by 1948, and today there are probably less than a thousand, most of whom came after the war. The Soviet Union did not exactly encourage public Jewish life, and very few Jews from older generations ever practiced much Judaism. "It's almost something entirely alien to them," says Aaron.
When asked if the reason for his move is to contribute in the rebuilding of Jewish Ukraine, Aaron can be quite blunt: "It can't be rebuilt, at most we can support what we have. If we had a hundred people coming to shul (synagogue) every shabbat we'd build up, but we don't, so it would all be in vain". After growing up in "a very Jewish community" in New York and studying in yeshivas (Jewish religious schools) all around the world, he realized he didn't want to became a rabbi after all, and that he wanted to do something more concrete. He was always interested in hasidism, a kind of Jewish mysticism, and spent much of his youth online, learning about the great hasidic sages and memorizing their dynasties, many of which had their roots in Ukraine. Eventually, he was drawn to the Chabad movement, a ultra-orthodox Jewish movement whose main aim is to bring Jews closer to Judaism, no matter what their denomination or their level of religious observance.
"There was this this brother who was involved in organising summer camps for Jewish youth in Ukraine", he recalls, "so one day I told him that I was coming with him, no matter what". Volunteer organizations such as Chabad invest great efforts in sustaining Jewish communities around the world, and rely on donations to do so. "They would always show up around Purim (the Jewish carnival), when people are happy and drunk so, you know, they tend to be more generous". He made is way to Ukraine and discovered a world very different from the one he had grown up in. "It really makes you appreciate the good life we have in America." After the Holocaust and half a century of state Communism, Jewish community life in Ukraine is a shadow of what it used to be. "There are so many Jews there, but they don't have any opportunities to be Jews. There is no food, let alone Jewish books. Then we come, and the reaction is mind blowing. Lots of kids got into religion through these camps, and some even moved to Israel after that."
He kept coming back for a few years, and made some friends. Then, one day, a rabbi in Zhytomir told Aaron that the rabbi of Uzhgorod was desperately looking for somebody like him, to help with the minyan (the minimum of ten Jews required for certain prayers), the religious holidays and the community in general. "So I took a flight and went straight. The plan was to stay only a year but that was it. I was assisting rabbi Taichmann, and he really was the first rabbi in the region after decades". The rabbi was known to be very dedicated, but then after a year he left. Aaron was somewhat shocked, and found spending the summer of 2012 as a sort of interim rabbi for the town. "I was reading the bible and saying kaddish at funerals. It wasn't easy, I was 20 years old and had no money to pay bills and stuff". After a few months, a new rabbi was finally appointed and Aaron returned to New York, to take course in bakery.
"People are always going to need food, especially bread. I thought it was a good profession to get into". While in America he met his wife, who is from Eastern Ukraine and was studying at a religious program for Russian-speaking Jewish girls. "I basically told her, if you want to marry me you have to come to Uzhgorod with me". She didn't exactly like it at first, but in the end accepted and they both moved to Zakarpattia. Last June, they opened the Brooklyn Bakery. "Do I miss living in big Jewish New York? Yeah, of course. There is a minyan at every block, and kosher fast food. But here it's more special, here I feel more Jewish. There, i'd be just another drop in the bucket, while here I feel it has a purpose, and it makes me strive to be a better Jew."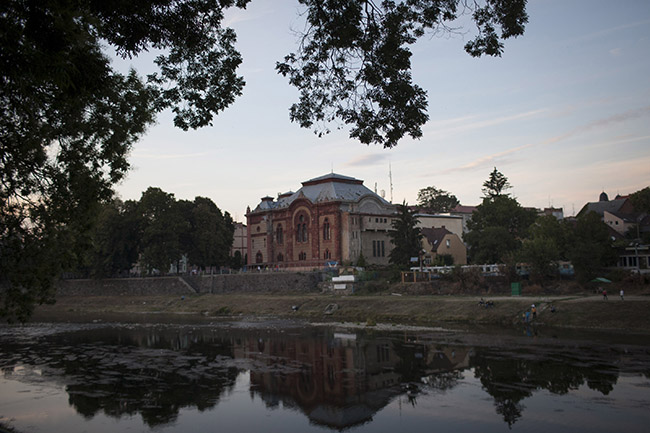 Uzghorod's former main synagogue across the river Uzh. Built in 1910, the synagogue could host hundreds of faithfuls, and was left empty after the entire Jewish community deported to Auschwitz.
The new Soviet authorities took it over and converted it into a music hall, after removing any visible sign of its Jewish past.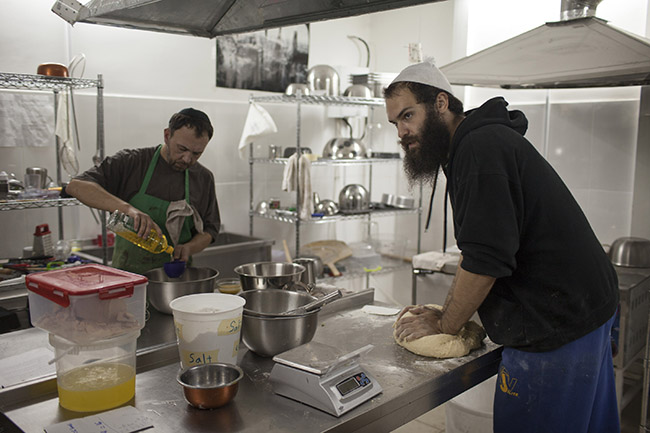 Aaron and Shimon start work in the early hours of the morning, at the bakery's workshop in a dilapidated former industrial area in Uzhgorod. Rent is definitely very cheap and so are the bills, says Aaron, who adds that Ukraine is a good place to start a business, or at least it was before the events of the Maidan and the ensuing civil war led to a drastic devaluation of the gryvna, the Ukrainian currency. "I liked the revolution", concludes Aaron, "but I need financial stability, I need to be able to feed myself. And since the Maidan it's all a mess, and everything is more expensive."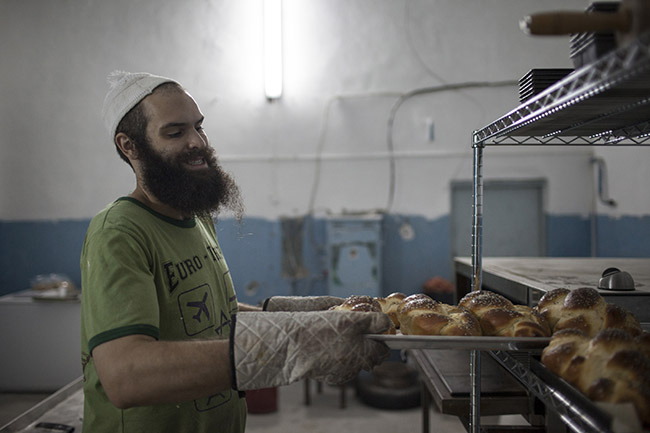 Aaron pulls fresh challah bread from the oven. Running a bakery is not an easy job, and one that involves waking up around two o' clock in the morning. Aaron's wife is at the shop during the day, allowing him to get some sleep after spending most of the night baking bread.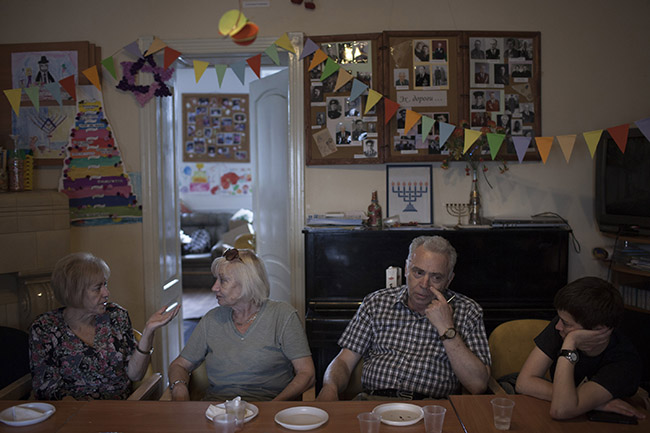 A social gathering at the Hesed Shapira community centre. Funded by the the American Jewish Joint Distribution Committee, Hesed Shapira is a charity that mostly focuses on supporting elderly Jews and runs programs such as "Window to the World", which provides laptops and Skype accounts to keep in touch with relatives that have emigrated abroad, mostly to Israel and North America.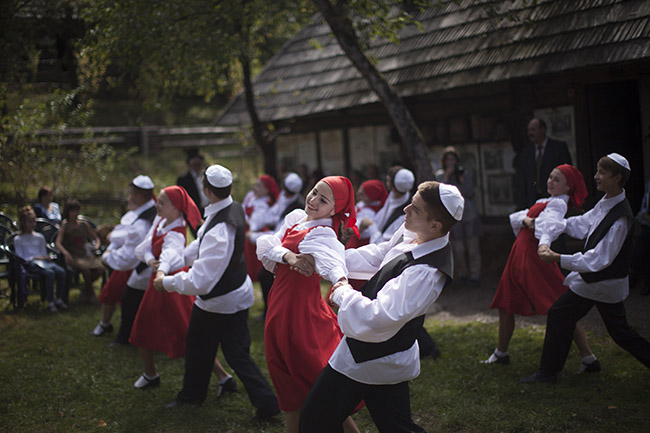 A youth crew performs Jewish-themed dances at a cultural event held the historical museum of Kolochava, a mountain communities up on the mountains from Uzhgorod, which includes a partial reconstruction of a Jewish shtetl (wooden hamlet).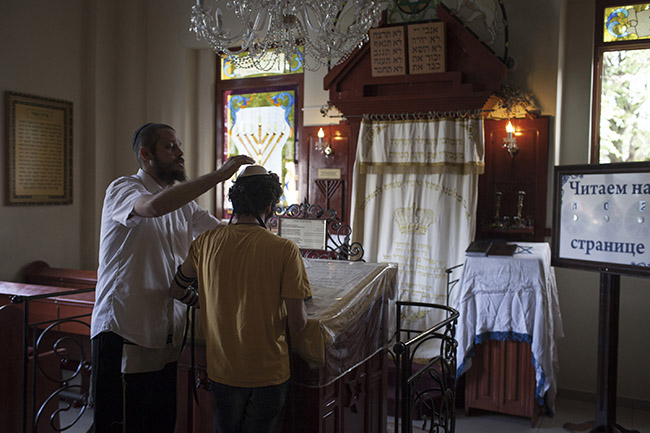 The rabbi of Uzhgorod, sent from the Chabad organisation to run the synagogue, helps a visiting Jew to pray.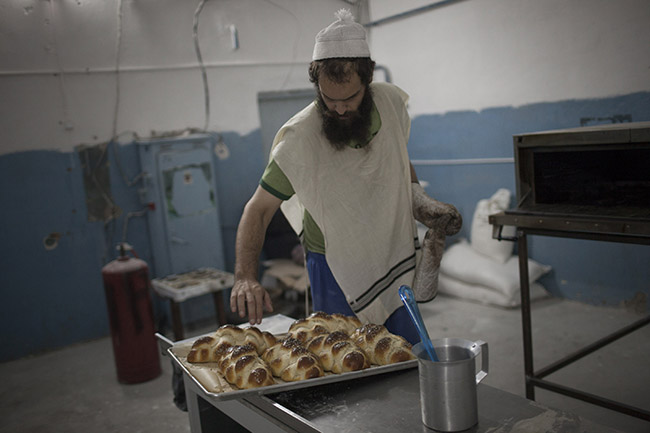 Aaron is practicing orthodox Jew, and the Brooklyn Bakery is strictly kosher. There aren't too many other practicing Jews in town, so Aaron tries his best to appeal to a wider audience, sharing is shop with a coffee shop and offering American specialties such as muffins. "We try to sell new products, which is quite unusual here".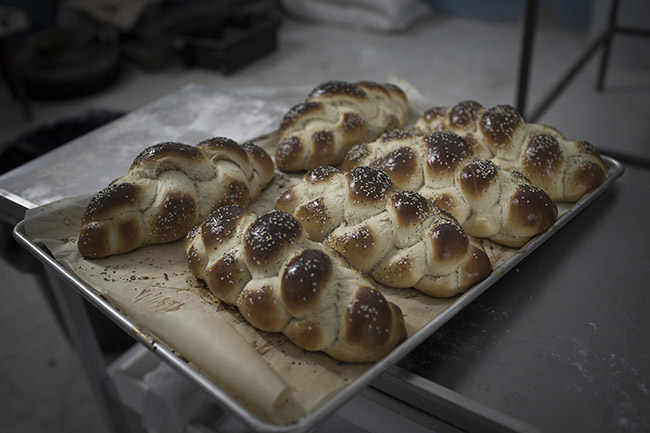 Fresh challah bread out of the oven. Typically eaten by Jews on Shabbat and religious holidays, this salted bread is today commonly eaten in Ukraine, and can be found in the market on most days.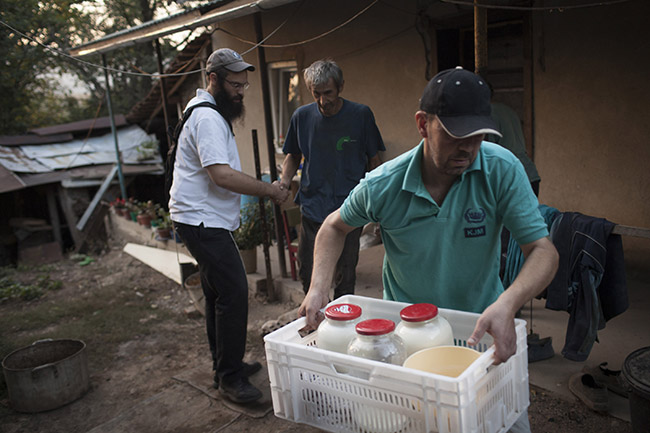 Aaron and Shimon buy fresh milk at a small farm on the mountains above Uzhgorod, after arriving at seven o'clock and having a quick glass of vodka to mark the sunrise.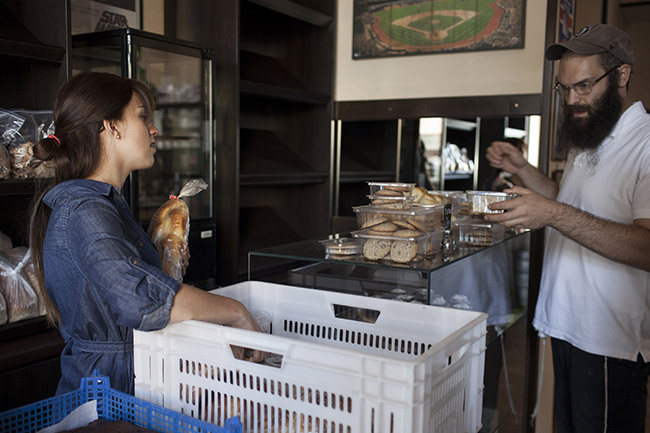 Levitz drops freshly-baked biscuits and bread at the bakery in central Uzhhorod. The clientele is slowly growing, and he is trying his best to keep the bakery profitable. "My presence here has two sides: to help the Jewish community and to run a successful business. If I don't manage to make a living, I would have to leave."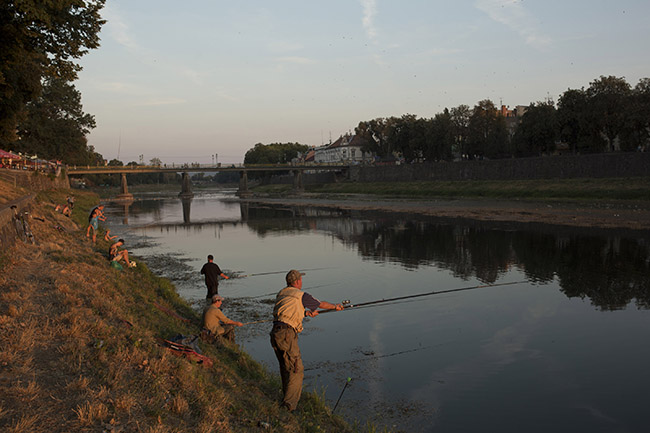 Enjoying a hot summer afternoon on the banks of the Uzh river. Tens of thousands of Jews lived in Uzhgorod before the war, crowding the promenades by the river during the Shabbat. When asked how many synagogues there were before the war, one of them told us that there "were simply too many to remember."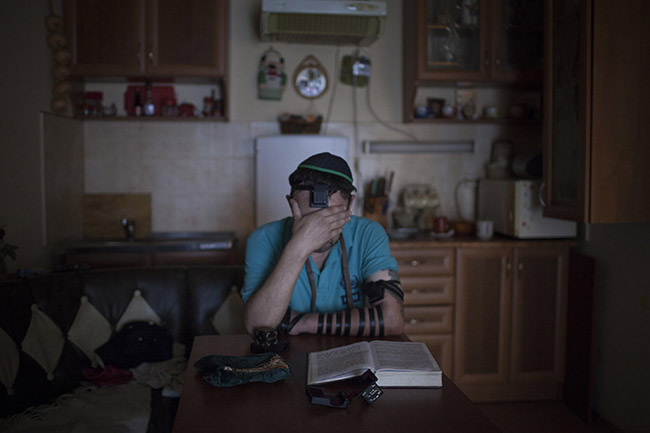 Shimon during his morning prayers after returning home from a night of baking bread.
Published on Narrative.ly